Reading List, Last 12 Months…
In case anyone is interested in what I read in 2012, I thought I'd post a list. I reconstructed it from my Kindle, and so is probably missing the occasional book I read in paper, but I certainly have included my favorites from last year.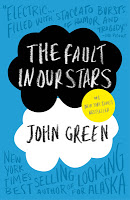 John Green
Kids with cancer is a tough topic, but he might be the one writer to tackle it with with the right mix of humor, irony and honesty.

Hugh Howey
Wool came out around the same time as Resurrection and it's been my great pleasure to watch its amazing success. Couldn't have happened to a nicer guy.
Tinker, Tailor, Soldier, Spy
Veronica Roth
My middle child became obsessed with this series and we had lots of fun deciding which factions we (and the rest of the family and all of our friends) belonged in.
Maile Meloy
Such clear, graceful writing framing a story that blends history with historical fiction.
Ally Condie
My middle child greatly enjoyed the author's writing style and the world she created, and said child charged immediately into the rest of the series.